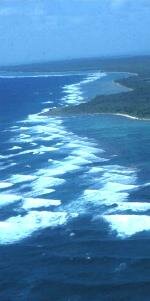 Rocky Point, where reef touches land in Bacalar Chico
In 1996, ITCF was instrumental in helping the Belize Coastal Zone Management to establish the Bacalar Chico National Park and Marine Reserve, on Ambergris Caye, Belize's northernmost island. Its creation was made possible by the European Union, with funds channelled through ITCF. Today, Bacalar Chico is part of UNESCO's World Heritage Site in Belize. Shipstern Nature Reserve and the village of Sarteneja are linked to Bacalar Chico mainly through tourism activities.
Bacalar Chico's northern border is formed by the Bacalar Channel, the actual border between Mexico and Belize. Besides protecting important coral reefs, lagoon habitats, spawning grounds for fish and beaches where both the American Crocodile and turtle species lay their eggs, Bacalar Chico also protects tiny areas of the rare Kuka Palm dry forest.
Visits to Bacalar Chico NP&MR can be organised from Sarteneja, where several tour guides organise day-trips.